"Zero waste life with LocknLock"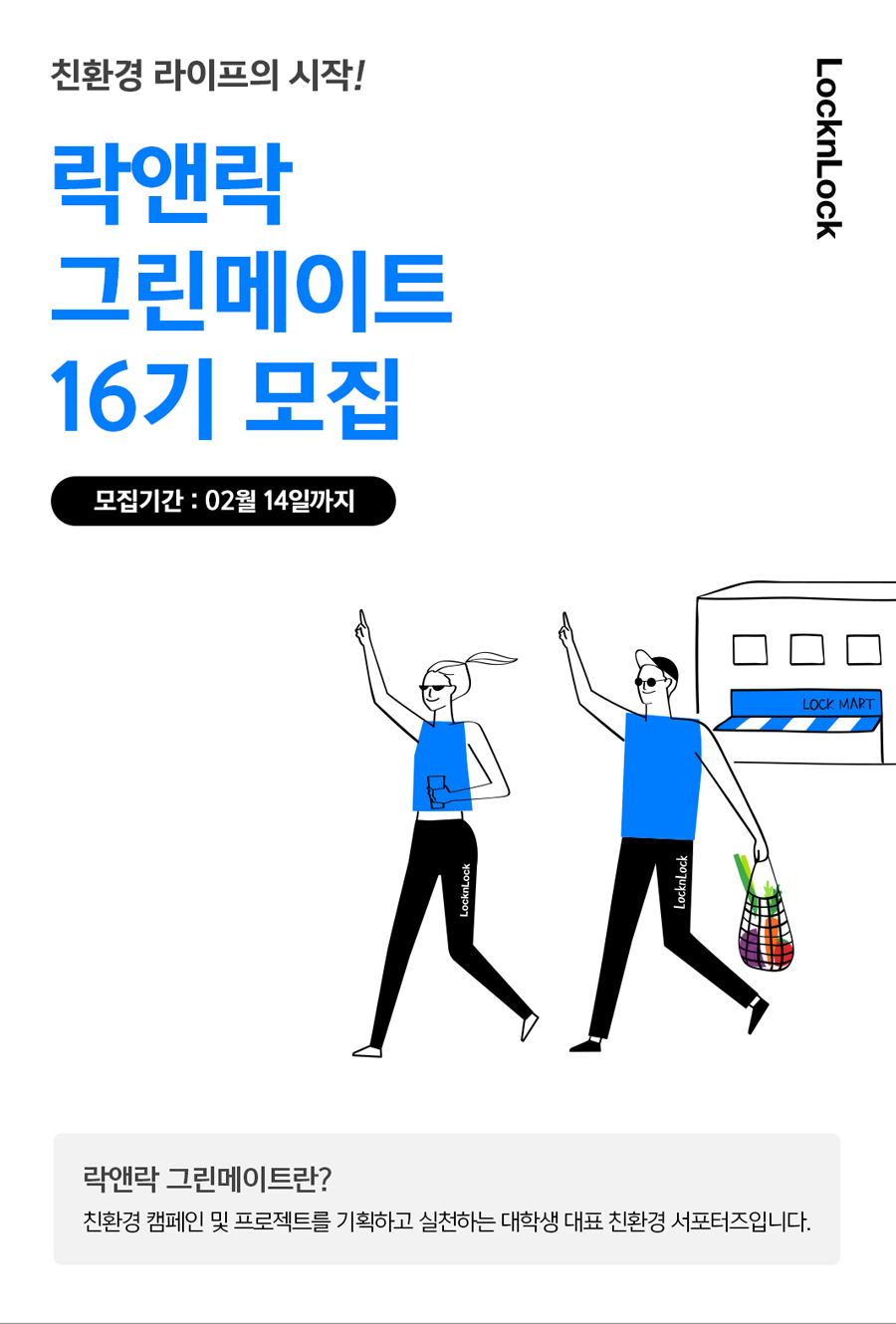 -'LocknLock green mate', eco-friendly supporters made up of university students in Korea to receive application until 14th of this month

-To launch various eco-friendly activities online including SNS challenge on zero waste
The global living goods company LocknLock Co. (RD Sunghoon Kim) is hiring '16th Green mate' who are green supporters made up of university students in Korea. LocknLock launched Green mate in 2013 with the goal to practice its eco-friendly business philosophy. Since then, the company steered various environmental projects with university students.
Green mate is open to anyone who is a university student(excluding soon-to-graduate students) living in Korea and keen on eco-friendly activities. They can download application form from LocknLock's official blog, fill it out and send it to Green mate official e-mail address. The 16th Green mate will inherit the activities launched in the first half of the year and perform both individual and team mission under the theme 'zero waste with LocknLock' to spread the eco-friendly culture. In individual mission, students should join 'green mate challenge' and show how they are practicing zero waste with LocknLock products like tumbler and airtight container. They should also upload it in their social network service and encourage other MZs to join.
For team mission, they should take part in the 'green campus campaign' intended to reduce the use of disposable cups in university campuses. Specifically, they should encourage university students to use tumbler and join online 'goodbye disposable cup challenge' to stay away from using disposable cups. Plogging (picking trash while walking or running), which is an environmental exercise anyone can easily take part in and production of a video showing eco-friendly life without trash for one week to share Green mate's message will also be part of the team mission.
LocknLock will select 20 new members and welcome them to 16th Green mate via paper screening and online interview. They will serve as 16th Green mate for three months from end of February to end of May and benefits will be given to most outstanding individual green mate and team green mate.
Director Minsook Kang of LocknLock HR Center said Green mate is LocknLock's leading external eco-friendly activity with university students. She added that LocknLock will broaden its activities based in MZ-friendly online. "We welcome all university students who can propose new environmental trends with fresh ideas." said Kang.