LocknLock joins hands with CJ Logistics for resource recycling… leads ESG management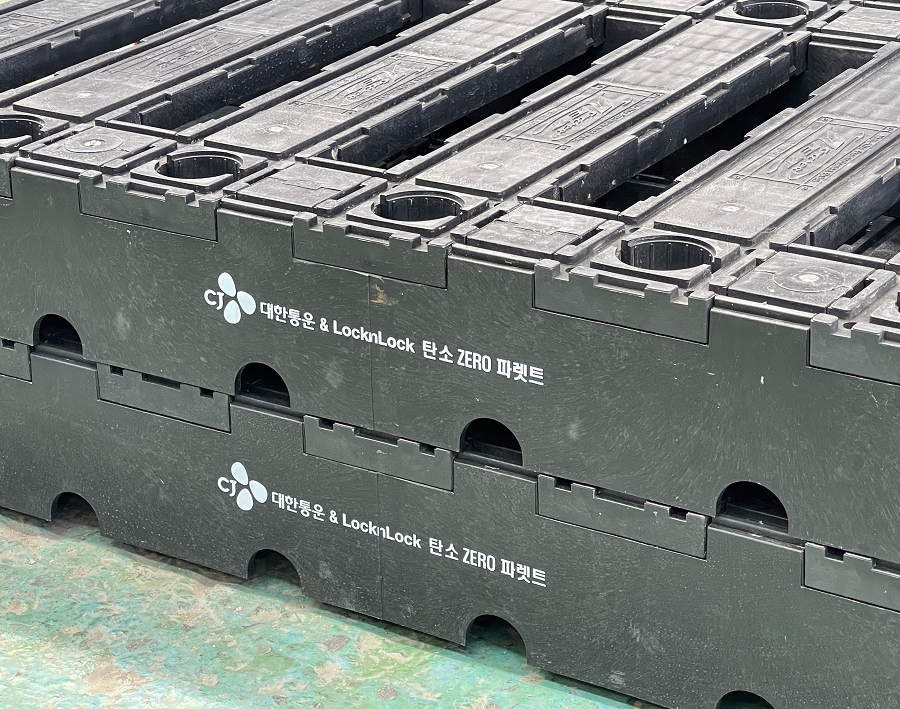 -To make 300 upcycling pallets with 10 tons of leftover plastics

-Each pallet consumes 28 kg of plastics, 20,160kg of CO2 reduction

-Collaboration between living goods and logistics company drives ESG
The global living goods company LocknLock Co. (RD Sunghoon Kim) is collaborating with CJ Logistics, which is Korea's leading logistics service provider, to drive plastics recycling. Through partnership with CJ Logistics, LocknLock manufactured modular recycling pallet(stand used to load and transport goods) used in logistics fields by using leftover plastics.
LocknLock provided 10 tons of quality plastics left over in plants and CJ Logistics will upcycle them into 300 carbon free, recycling pallets with pallet manufacturer. A single carbon free pallet requires 28kg of plastics as material. Simply discarding it creates around 67.2kg of carbon, which means recycling into 300 pallets saves 20,160kg.
This is as effective as planting 6,720 pine trees. Furthermore, modularization can save both cost and additional resources as opposed to one-body type that is commonly used in logistics sites since only the damaged part is all that needs to be replaced. Carbon free ZERO pallet, which is 1,100mm long and wide, is the most common size and can withstand up to one ton. It is made by Sangjin ARP, which is packaging logistics manufacturer. It holds international patent on modular pallets. LocknLock and CJ Logistics allocated 50 pallets on pilot at CJ Logistics Sindeokpyeong Logistics Center following stability test and the remaining 250 will be on site as well this month.
Director Minsook Kang of LocknLock HR Center said the company has been taking a leading role in the industry to perform resource recycling across business activities, which is aligned with its priority on environment. "As companies are increasingly exploring ESG, we find meaning in the fact that collaboration of the two companies representing different industries has suggested a new solution to reduce carbon emissions." said Kang.
Meanwhile, LocknLock is steering resource recycling in many ways by utilizing plastics left over during the course of production and consumption. In 2018, it launched ECO Lock, which is a food container brand made of leftover plastics, in Europe known for high awareness on environmental protection, and recently made its way to UK's largest retail brand TESCO in response to consumers' rave reviews.
In 2019, it introduced ECO high-quality easy clip package boxes at a reasonable price. Its monthly average sales quadrupled that of existing ones in just one week after launch. Last year, it launched 'Love for Planet' campaign that recycles and reforms old kitchen and living goods. The company also drew attention for its leading role in upcycling plastic airtight containers into eco bags and benches alongside walkways in Jeju Island.