LocknLock launches 'Metro drive tumbler' for drivers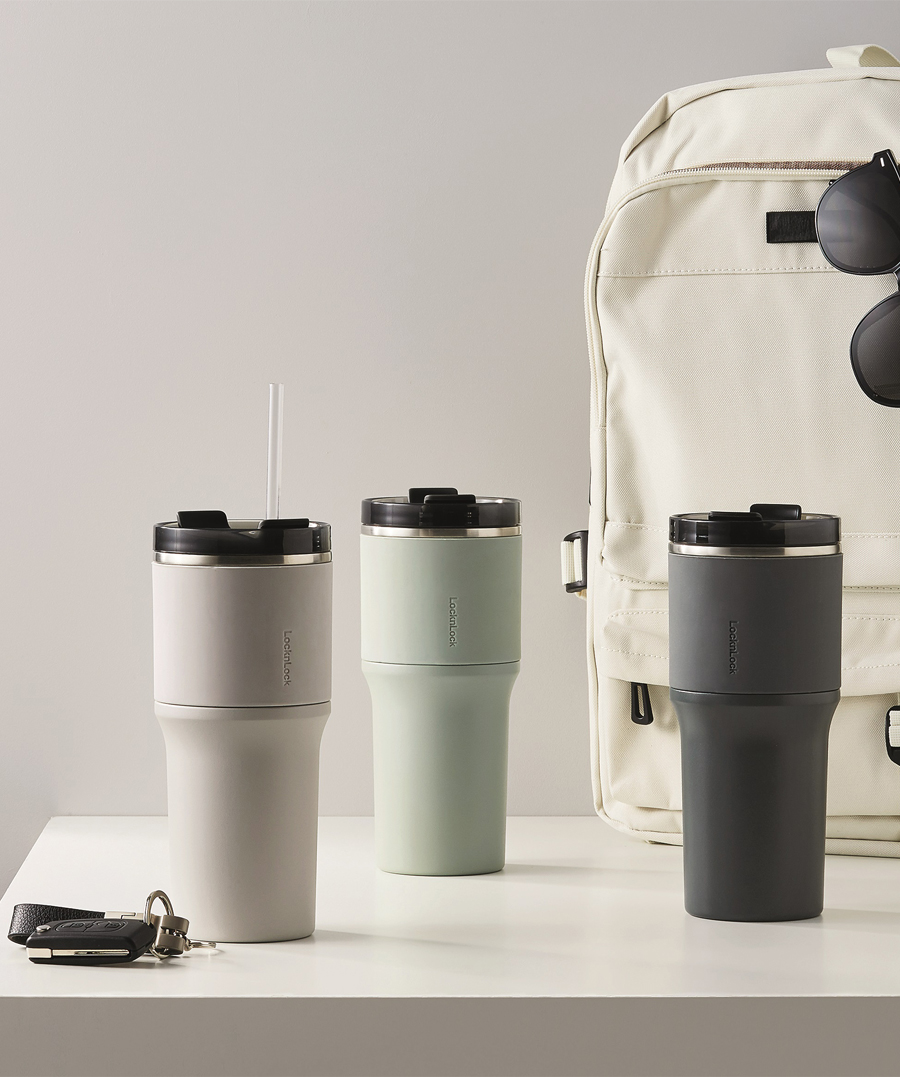 -Design fitting car cup holder and rotating cup with straw holder optimized for drivers

-Reusable straw and straw cleaning brush make up tumbler set to suit eco-friendly trend
The global living goods company LocknLock Co.(RD Sunghoon Kim) launched 'Metro drive tumbler' for hygienic use in cars. 'Metro drive tumbler' is customized for use in cars in response to growing trends around tumbler use in cars during the driving and holiday seasons.
The body gets slimmer to the bottom to fit the cup holder with the 7cm bottom diameter perfectly fitting into the holder. The top coming with the silicon non-slip cover keeps the tumbler from slipping while driving, which ensures a more secure tumbler use. Rotating cap in the cover allows versatility. Drinking while driving gets easier when synchronizing straw holder and entry for straw. At home or office, the cap can be turned to use entry while it can be blocked when not in use to keep air dusts from flying in.
Metro drive tumbler designed in contemporary and simple style is the new lineup of LocknLock Metro series that includes Metro tumbler and Metro mug. It comes in off white, mint and gray while transparent cap added with black-toned edge add to sophistication.
Outstanding performance found in LocknLock tumblers is a given. According to LocknLock's own performance test, it can retain cooling for up to 29 hours(8℃) and warming for up to 5 hours(60℃). Vacuum layer in between interior and exterior prevents dew condensation that is caused by temperature difference. The 650ml big-sized tumbler can fully contain grand-sized beverages sold in coffee shops and can be used effectively when driving long distance.
Entry is wide enough to put ice beverage in summer and clean with ease. Also, reusable straw and straw cleaning brush come together with the tumbler as a set item to suit the green life trend these days. Team Leader of LocknLock BW Development Team (BW∙beverage ware) Sangwook Joo said eco-friendly trend and personal hygiene issues have made tumbler a daily item in cafeterias, workplaces and cars. "LocknLock's Metro drive tumbler is customized to be used with utmost comfort in the car by catering to the needs of consumer on the steering wheel." said Joo. 'Metro drive' tumbler is sold in LocknLock Mall, NAVER smart store, 11th street, G Market and other open markets.
LocknLock launched LocknLock Metro series in 2019 with the concept catering to busy urbanites. The series, which is applied with simple yet practical Scandinavian touch and sophisticated, contemporary design, includes the portable 'Metro tumbler' and 'Metro mug' for indoor use. 'Metro tumbler' snatched the grand slam by winning iF Award, Red Dot Award and IDEA Award, which are known as the world's top three design awards, and German Design Award.