Lifestyle platform with enhanced commerceㆍcommunity function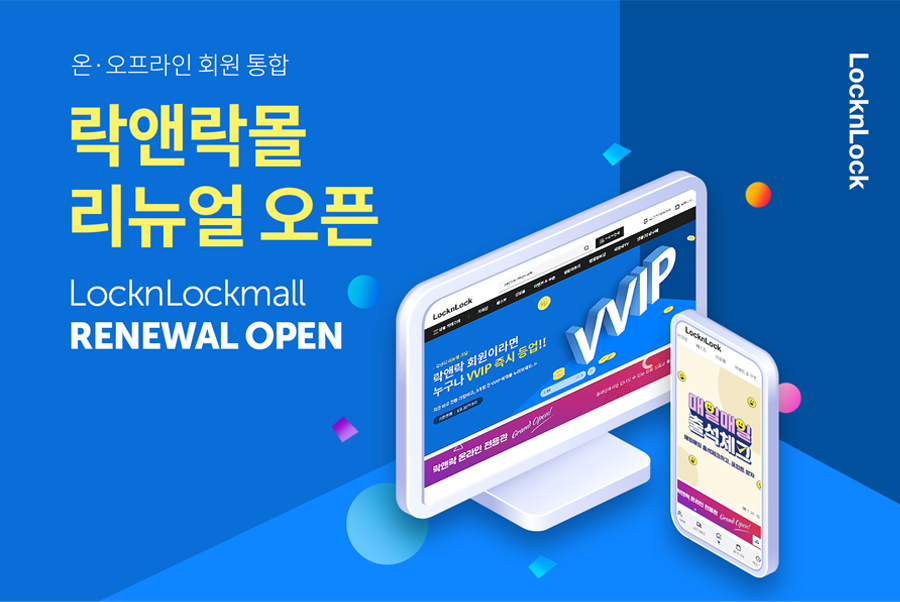 -Commerce functions like smart search and customized pick catering to lifestyle needs

-Differentiated experiences like community group Living mate, new product experience group and One Day Class 

-Online•offline combined membership system for wider member benefits
The global living goods company LocknLock Co. (RD Sunghoon Kim) renewed its official mall 'LocknLock Mall'. Armed with the brand slogan 'Add the Good Ones', the company renewed itself into an online lifestyle platform with stronger commerce function to enhance customers' shopping conveniences and benefits and provide differentiated experience.
The newly opened Mall lets customers search and shop products that cater to their lifestyle needs. Consumers can set detailed conditions via 'smart search' such as user, user conditions and key priorities that lead to actual purchase to explore customized search results. The Mall recommends customized products by analyzing customers' shopping activities and launches various programs that meet consumer needs such as 'today's hot deal'. Shopping convenience is added by simple payment while detailed discount benefits and functions to compare products are provided to help consumers make speedy and reasonable choice.
Community function that promotes communication with customers and shares their feelings is another differentiator. 'LL Membership' page in the Mall shares useful living tips to members and opportunities to experience various contents. For example, 'Living mate' is a community group of members with diverse lifestyles ranging from single life to newly weds, new family with the arrival of a newborn and a master in kitchen life who share tips and useful information gained while using LocknLock products.
LocknLock is inviting the first community group is until Jun. 6th on the occasion of online mall renewal and it is open to anyone who is a VIP LocknLock member. Furthermore, 'New Product Experience Group' and 'One Day Class', which are the two most popular programs in the community channel 'LocknLock Supporters' reaches out to customers with fresh and new contents.
Along with this, LocknLock built online/offline combined membership system and streamlined membership grades from 6 to 3 to offer more benefits to customers. Anyone signing up for combined membership instantly becomes LL member and is upgraded to VIP for a single purchase and VVIP for more than five purchases or purchasing amount exceeding 500,000 Won.
Members can enjoy member-only benefits such as free delivery and private coupon on holidays according to membership grade. Existing LocknLock members can save their order records and points savings just by signing up to the new membership grade plus a three-month VVIP member chance if they sign up before Aug. 15th. Also, member can get 3,000 points if he/she recommends any family member or friend to sign up as a member who will immediately get 3,000 points as well.
LocknLock Marketing HQ Director Kyungwoo Ryu said the new Mall advanced the commerce function to better reflect customers' lifestyle and services in highly satisfactory programs in the brand community 'LocknLock Supporters' to expand membership benefits. "The Mall is not just about selling products. We will take advantage of it as a lifestyle platform where customers can share and exchange useful information and stay in touch with each other." said Ryu. On the occasion, LocknLock will launch 'Renewal Open Deal' offering up to 70% discount in LocknLock Mall and stores nationwide until May 31st. During the period, consumers can buy 'hit items' like 'Decore IH series' and 'Metro mug' at discount prices. Anyone signing up for LocknLock Mall combined membership and buy a product can enjoy both discount and VIP membership benefits.