LocknLock launches resource cycling campaign collecting old plastic airtight containers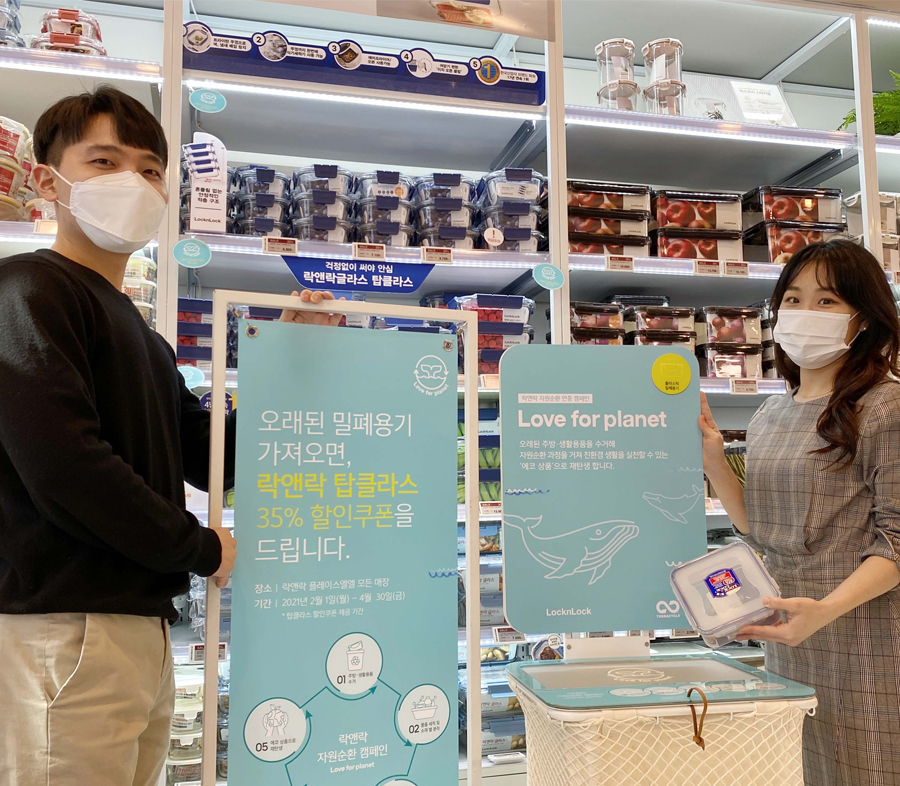 -Resource cycling campaign engaging consumers … at Place LL stores until Aug.

-Old plastic containers to be reborn into eco living goods and public facilities, etc.
The global living goods company LocknLock Co. (RD Sunghoon Kim) is launching a campaign to collect and recycle old plastics until Aug. as part of its year-round 'Love for Planet' campaign. Its first activity during the first half of the year will be held in joint with Terracycle, which is the global environment company.
The campaign is open to anyone who can collect airtight containers and hand them at Place LL stores in Seoul and metropolitan. Anyone bringing plastic airtight containers that have not been used in a long time or too old to use no matter the brand can bring them to the stores in return for a 35% discount coupon of LocknLock's best-selling heat-resistant glass airtight container 'Top class' until Apr. LocknLock plans to continue the discount promotion in many other ways after that. Containers need to be cleaned for upcycling and disposables are not accepted.
Plastic airtight containers collected by consumers will be processed as regenerative plastic material via Terracycle's technology to produce eco daily goods, public facilities and in various other forms to create a positive awareness on resource cycling.
Director of LocknLock HR Center Minsook Kang said LocknLock is exploring various ways to practice resource cycling along with consumers in our daily lives especially at a time when COVID-19 has heightened public interest and awareness of the environment. "We will place plastic container collection boxes in various places on top of Place LL stores to encourage more consumers to participate and spread the resource recycling culture through funding platform, etc." said Kang.
LocknLock launched 'Love for Planet' campaign last year. As part of this all-year-round campaign, LocknLock unveiled eco bag made of collected airtight containers in May and installed upcycled benches for tourists to take a rest while walking along Olle trailways in Jeju Island to engage in resource cycling with consumers.